Informations - CB T1 marathon - 20.1.2018
Schedule:
7:30 Registration
9:00 Start of Groz-Beckert 5K run
9:30 Start of the CHILDREN charity run, to support Bazalka Centre
9:50 Pre-race discourse
10:00 Start of Budějovice T1 Marathon
15:15 Announcement of results for the various categories
Course:
All events will take place at Výstaviště České Budějovice, T1 hall. Standard marathon distance 42.195 km - 105,5 laps of 400 meters. The surface is made of polished and painted concrete. The road shoes are highly recommended. Constant and guaranteed temperature between 13 to 15 °C and a total lack of wind is a great advantage for all runners. At the finish line, there will be a digital timer displaying an actual number of laps and runner's current position. The course is measured in compliance with IAAF rules, specifically the Rule 240 - Road Races. Refreshments points will be placed every 400 meters and every runner can specify their place where they can put their own refreshments. Cut-off time is 5 hours.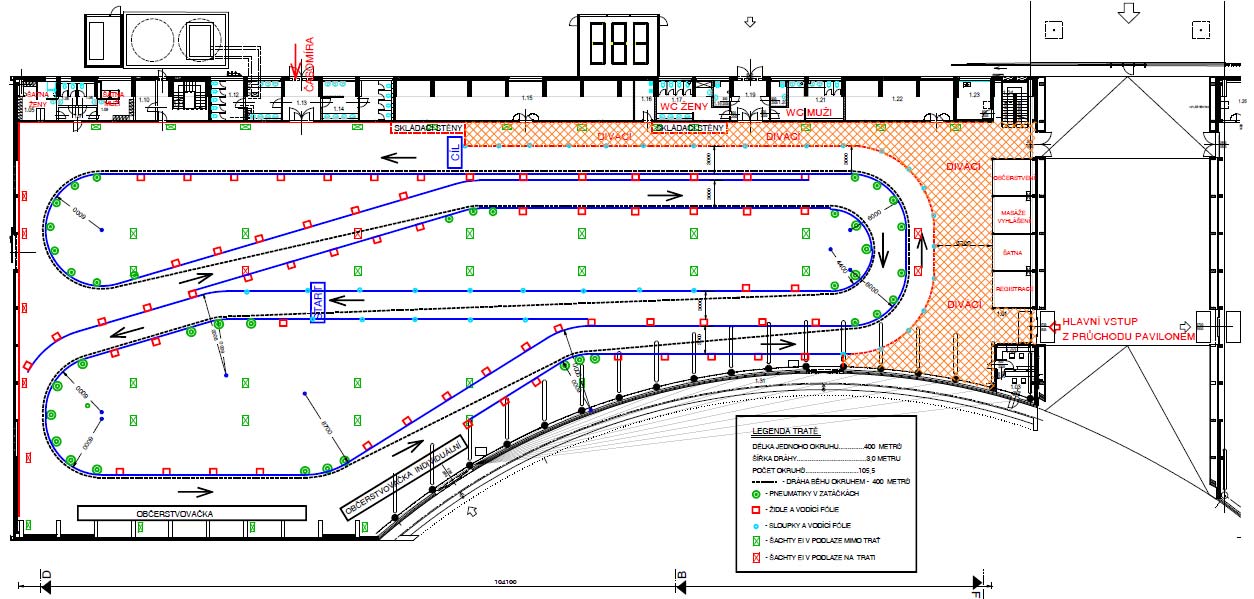 GROZ-BECKERT Race Course:
The race is held on the same course as the marathon event. Runners in the GROZ-BECKERT Race run 11 laps plus 105 additional meters.
Registrations:
Registration is possible only in advance by filling out the form on this web. The race capacity is limited to 150 starting positions and therefore it will not be possible to register directly on the spot. After your registration, the payment shall be made within 7 days. Otherwise, the registration will be canceled.
Entry Fee:
CZK600 for Marathon Rance - advance payment should be sent to bank account no. 240944676/0300. As a variable symbol, please state the last three digits of your phone number. For international runners, payment options are bank transfer as stated above or EUR35 at the place of the event. Entry fees are non-refundable. Entrants may transfer their entry to a replacement runner.
The GROZ-BECKERT Race fee is CZK50.
The entry fee must be paid 7 days after registration with the deadline of 12 January 2018.
Marathon categories:
Men up to 39 years
Men up to 49 years
Men up to 59 years
Men over 60 years
Men over 70 years
Women up to 34 years
Women over 35 years
GROZ-BECKERT Race Categories:
men
women
Prizes:
Material prizes from sponsors will be awarded in the announced categories. Winners will be awarded trophies. Each participant of the marathon receives a commemorative medal at the finish.
Parking for Runners:
On the Výstaviště premises - 100 meters from the main entrance to the T1 hall.
Washrooms:
Using sanitary facilities in the T1 hall of Výstaviště is possible.
All runners participate at their own risk entirely. The race organizers will not be liable for any injury, loss, or expense which may arise in consequence of your participation in any of our events!
Map:
Marathon race will take place in the hall marked as T1, that you find at the right side of the map. For entrance, you can use the main gate (and then you have to walk through the whole compound), or you can use gate next to T1 hall, that you can find next to Tesco shopping mall.